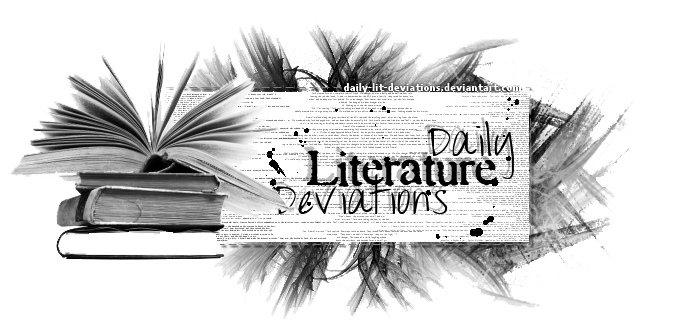 Guidelines
|
How to Suggest a DLD
|
Group Administrators
|
Affiliation
|
Chatroom
|
Current Staff Openings
Saturday Spotlight for May/18/2013
Daily Literature Deviations is proud to feature this special recognition article!
You can show your support by

ing this News Article. We hope this gives you some insight into the person behind the art. Please comment and

the features and congratulate the artist!
Artists will be featured in a special news article every Saturday. Major points to =
SilverInkblot
and =
DrippingWords
for doing the hard work and research that goes into these articles!
Today's featured deviant is:

*
glossolalias
!

Questions
1. Tell us a bit about yourself and your writing.
I started writing as a way to purge emotions that I could no longer handle internally but did not want to discuss with other people. By the time I was sixteen, I realized most of my writing was utter crap and became interested in technique, theory, and most importantly, other writers. I also learned the value of editing, which I apply to my prose more often than my poetry, though I do put more thought into my poetry than I used to. Let's just say I'm no longer a fan of nonsensical emotionally overwrought word vomit.
2. How do you feel about dA as a literature community?
Of any website I have posted my writing on, dA is the friendliest. Almost all of the community members I have met are willing to not only talk about their writing but their ideas behind it. There is so much talent to read daily, and if one actively participates--commenting on others' work, offering critique, etcetera--it's easy to become involved.
3. What is your writing process like?
For my poetry, I usually start with an idea and let the words build themselves. I then edit the work until I'm satisfied with it, which is almost never. I tend to return to my poetry very often. My favorite is revising poems I wrote months ago, because I always have a new perspective on what I've written.
For my prose, I have more of a systematic method. I outline the plot, decide on themes and symbolism, and then flesh out the story from there. I also spend much more time editing it in the early stages, thought I'm less likely to return to the idea later.
Both of these processes involve lots of caffeine, but a few people have noted I'm a rather "prolific" writer. I have a lot of energy for what I do, and if I have even an inkling of an idea, I will try to write it. You never know if it's going to work until you try, and sometimes, if you start something, the rest of it will come to you either while you're writing or after you look back at your work later.
4. Are there any authors that have influenced your work?
So many, haha. Right now, I've been reading more contemporary fiction, including Sherman Alexie, Mark Z. Danielewski, Yann Martel, and Alicia Erian. I tend to read more prose than poetry, and I'm very drawn to realistic situations and spiritual contemplations. The ideas of human nature and frailty fascinate and that reflects in my writing and inspirations.
To be honest, I draw most of my inspiration from my life and the lives of others.
5. What advice would you give to a beginning writer?
Write often, edit often, and take the advice of writers you respect but don't lose your sense of style. You don't need to be like another writer to be successful.
Poetry

Census of Ghostshe now resides in susurration:
shaken from our summer sheets,
flags drawn taut and shuddering,
and wispseeds rising into the light
with their dressing gowns unbuttoned,
planting onto my lips that name
i've tried to hang with himself;

on a late morning,
while folding your laundry,
i found him again and held his tongue
when he yearned to speak of love
that once transpired in his passion,
or maybe it was the infatuation
of surrealists: brown skin but touched
upon each other,

marking the insignificant with brands
of remembrance: like the crinkling of
tinfoil or the crisping of smokers' lungs
or the thought that cigarettes are only
romantic i
"Census of Ghosts" by *
glossolalias

Sixteen Sketches of Local Personhood one.

By Method of Loci, Nick remembers the different faces
of every man he's ever slept with, placing them like mannequins
through his childhood home. In the cluttered foyer is the boy who asked him
for his virginity, but in the attic, his husband of one year by law but many more
by virtue of dedication and love reclines against the diamond-shaped window,
backlit by dusty light while smiling with his arms wide open, his legs stuck straight like
The Cross that hangs beside him, a wooden thing abuela brought back from Mexico.

two.

Tamarah cleans the gutters with her hands because the hose
won't work like it used to and the sun beats down
"Sixteen Sketches of Local Personhood" by *
glossolalias
Prose

All Truthsone.

Micah Deluca came out sophomore year.

He was standing by his locker, talking to a blond with a crooked smile and one fake tooth, feigning interest to stare at his biceps. The blond's name was Dylan Arnholt, and Micah had better things to do, but he was always polite and politer to handsome boys. Perhaps that was telling enough, but there was something effeminate about Micah: his straight dark hair, the impish curve of his pink mouth, the way he held his hips, his meticulously shined Doc Martens and tight bleached jeans. Everyone suspected he was gay, but no one knew until Dylan asked pointblank, "So, are you a fag?"

"Do you mean to as
"All Truths" by *
glossolalias

Petty ReasonsI. Little Accidents

I scrutinize the jeans I scrape off the laundry room floor, trying to figure out if they're black or indigo; last week, Logan invited me to a party and said Willow would be there. While we still shared an English class, Willow said she liked to see me in black jeans and green shirts, but the only green shirt I own is dirty. I settle for blue and hope it's close enough, checking the date on the calendar for the sixth time: Friday, July 18th.

Before I leave, I make sure I say bye to Jackson. He's on the phone with a customer and waves his hand to shush me. A minute later, he covers the receiver with his hand an
"Petty Reasons" by *
glossolalias
For more information, including how to suggest a Deviation to be featured, please visit us at =
DailyLitDeviations
.
Thanks so much for supporting the lit community and this special feature project!
~ The =
DailyLitDeviations
Team ~
Prepared by: =DrippingWords
---
---